Information + Membership Sign-up
You must have a pistol permit to be a member. This is a "membership-only" range.
STATUS UPDATE
We have shooting range membership slots OPEN
In the case that we run out of avalable slots, you will be added to our waiting list and notified.
Premier
1 hr. dividable slot/week
6 Guest Passes/yr
Rentals start at $10/gun
$20 FFL Transfer Fee
10% Class Discount
10% Event Discount
10% Discount on Live Fire Simulator
$29 Registration Fee
$59 Monthly Fee
Platinum
1.5 hrs./week
8 Guest Passes/yr
Rentals start at $5/gun
$20 FFL Transfer Fee
15% Class Discount
15% Event Discount
15% Discount on Live Fire Simulator
Live Fire Simulator
$19 Registration Fee
$79 Monthly Fee
VIP
2 hrs./week
8 Guest Passes/yr
Rentals start at $5/gun
$20 FFL Transfer Fee
20% Class Discount
20% Event Discount
20% Discount on Live Fire Simulator
Live Fire Simulator
$9 Registration Fee
$89 Monthly Fee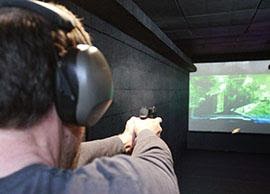 technologically advanced.
In addition to the standard shooting range experience, our range has a life fire simulator. This puts the shooter into an experience for tactical training circumstances, as well as shoot / don't shoot scenario options. Perfect for police and military training, this also provides the average citizen with a training option that is ideal for self-defense and of a similar caliber to that provided to local and federal law enforcement agencies.
Using Advanced video simulation
The video capabilities allow us to turn a small building into a 100 yard range. And, this is done in the comfort of an air conditioned or heated environment. Enclosed, you are safe and out of the elements. You will have a wonderful experience and enjoy shooting in a comfortable climate, no matter what the weather outside is doing.
Shooter Stalls provide safety + Comfort
The shooter stalls feature flush-mount shooting shelves and provide room to maneuver. A barricade is also built into the shooter stall so that you can practice from shooting behind cover.
Programmable Target Retrieval System
The Target Retrieval System allows for programmed options. That is, the target, can be programmed to move forward or backward. It can be programmed to present itself, or to turn. This is ideal for police qualification and training, reflex drills, distance training, and other tactical scenario based functions.
Breathe easy while you shoot
Air circulation and filtration is state-of-the-art and provides complete circulation of new air into the range approximately every two minutes.
The range allows for tactical movement drills, as it offers 360° containment.
Our West Hartford shooting range is available for members and local residents, as well as to our police and military clients. Thank you for your support and we look forward to bringing you the best shooting range experience in Connecticut!